Tower 2 Collins Square Project is Towering 2 The sky
August 11, 2016
The Walker Corporation's latest Tower 2 Collins Square Project is a towering masterpiece. The building is part of the $2.58 billion Collins Square development in Victoria – one of the biggest commercial developments in Australia. Designed by award-winning architects and offering 38 storeys of office space with a construction value of $340M, this building makes an immediate impression.
The construction company (Brookfield Multiplex) engaged CoxGomyl (a leading manufacturer of building maintenance units or BMU's) to provide a solution to access all façades of the building. Many solutions were considered with the challenge being the shift in floor plan for levels below Level 27 stepping in on two of the four elevations. To access the façade below this step, the BMU cradle must reach in towards the building underneath this step in the building. For the elevations without the step, the BMU also works to replace glass with a dedicated glass-changing hoist built into the BMU.To change glass to the areas below this step in, a monorail system was installed to the underside of the ceiling at Level 27. A winch lifts a glass panel from the ground with support from the operators in the cradle and the panel is moved to the replacement location where the BMU operators install it. The BMU travels around the roof area on a steel twin track system, much like a railway track, this guides and stabilises the machine.
The BMU's distinguishing feature is the special cradle (SAM Cradle) – 'Self-Approaching Mechanism'. The cradle is equipped with a scissor- type mechanism and stabilising counterweight. The operators initially descend the façade from roof level with the cradle in the collapsed position. Once they have passed the step in, the cradle system is "opened" effectively reaching in underneath the step and providing access to the façade below this step in.
CoxGomyl have developed a wide range of solutions to suit all building challenges and requirements, working with the architect and builder to find the right solution which is always project specific.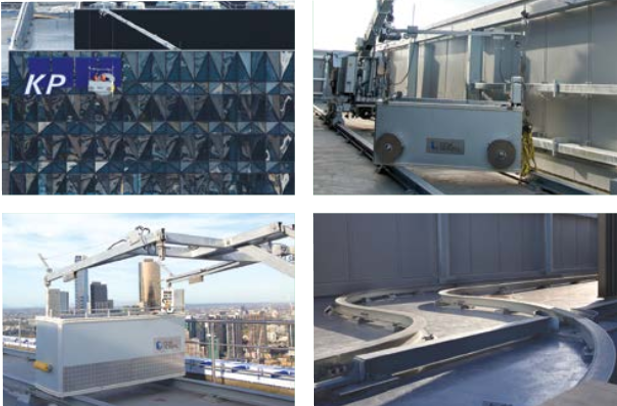 This article is an abbreviated version from the feature "Towering 2 the Sky" produced by The Australian National Construction Review. For the full feature click on the link http://www.ancr.com.au/tower_2_collins_square.pdf  or visit WWW.ANCR.COM.AU
Back to news