How sustainable architecture is changing the built environment
July 5, 2017
Buildings play a large role in how we live, work and interact with the wider world, so it's no surprise that architectural trends utilise innovations in technology to address social concerns about environmental responsibility.
CoxGomyl are at the centre of these developments and deliver facade access solutions to meet the needs of the most demanding and pioneering visions for sustainable architecture.
According to Gensler's 2017 Design Forecast, buildings contribute more than any other factor to global carbon emissions — 30% and up to 80% in some developing countries. Sustainable architecture seeks to minimize the negative environmental impact of buildings by efficiency and moderation in the use of materials and energy. It also considers the space the development occupies and the wider ecosystem. This trend is about a conscious approach to energy use and ecological conservation, carefully considering the impact in the short term and the consequences for future generations.
We have been involved in some of the most ground-breaking and inspiring examples of sustainable architecture. Singapore's 'living tower', the Oasia Hotel Downtown, is at the cutting edge of the growing trend for sustainable practices and in particular the rise of the building garden. The building benefits from an open structure, incorporating four verdant 'sky terraces' to serve as urban verandas, sheltered by a sky garden with an open crown instead of a flat roof. The facade is home to 21 species of creepers which will grow and fuse with the outside of the building. An additional 33 species of plants and trees have been incorporated into the sky terraces and top level garden. This incredible project brings much needed greenery into the CBD, as well as providing a new habitat for birds and animals and increasing urban biodiversity. The innovation involved in realising this sustainable vision needed equally inventive access solutions. CoxGomyl designed and built a bespoke system including a BMU at crown level, a soft-rope system to allow the cradle to travel horizontally and diagonally, and monorail systems on the underside of the soffit for access to the mid-level gardens.
Another architecturally sustainable project is One Central Park Sydney. The building is home to 85,000 façade plants with 1200 square metres of green walls in total. The 116 metre vertical garden-walled residential building eliminates the need for soil as the plants just need somewhere to attach themselves. Light, carbon dioxide, water and nutrients are dispersed mechanically to the plants, which ensures they can grow and survive without soil. This approach allows the plants to grow without compromising the structural integrity of the building. To further aid the sustainability of the plants CoxGomyl designed and supplied a moving roof gantry covered in reflective glass panels. The panels assist by directing sunlight onto the plants.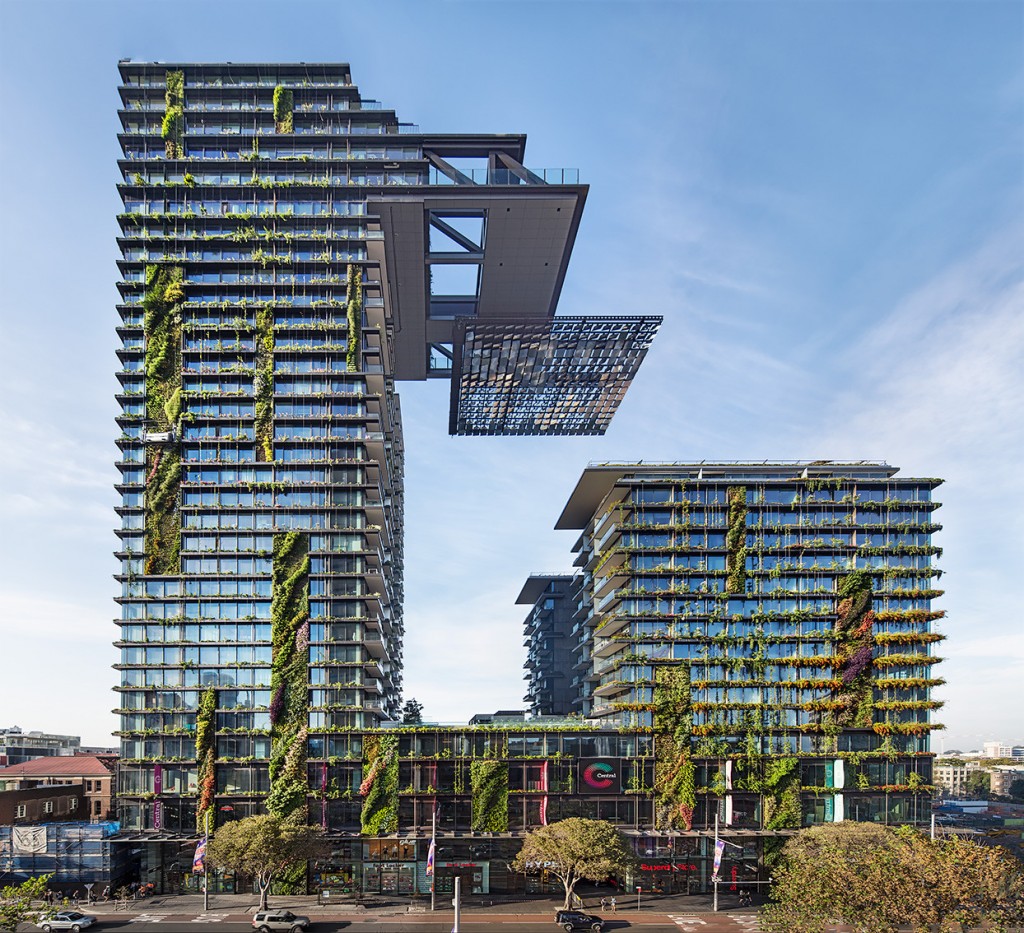 One Central Park, Sydney. Photo: http://www.archdaily.com/
Even Supertall Skyscrapers are now becoming more sustainable in their façade design. The Shanghai World Financial Center employs a diagonal-braced frame with added outrigger trusses linked to the columns of the mega structure. Using this new system meant the weight of the building was reduced by more than 10% and resulted in significantly less material being needed for this 492 metre tall building. The Center also features energy efficient LED displays on the external walls, water recycling tanks, more space for bicycle parking and UV resistant windows to save energy. The standout feature of this structure is the 164-foot-wide portal carved through its upper levels that relieves enormous wind pressures on the building. CoxGomyl's access solution involves 20 separate BMU systems and the ability to retract into the building for out of sight for parking. Jib designs include fixed length jibs and multistage knuckle jibs. These are capable of launching the cradle through narrow openings and reaching around corners to position the cradle in hard-to-reach locations on the building's facade. The level 97 glass-clad observation bridge uses a custom gantry for regular and convenient access to this important viewing area.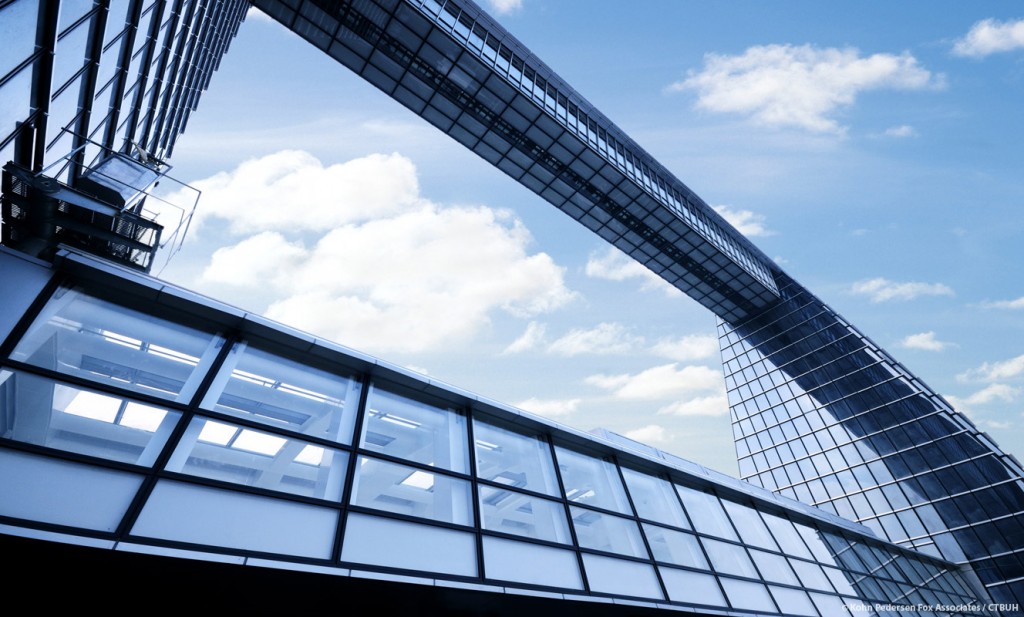 Shanghai World Financial Center. 
Photo: http://legacy.skyscrapercenter.com
CoxGomyl is uniquely placed to deliver on our commitment to being a sustainable and environmentally conscious company because we are a true end-to-end provider of building maintenance systems: from design and engineering to manufacture and installation. We are constantly reviewing and developing our products to take advantage of new processes and materials. We also strive for more efficient, streamlined processes aimed at reducing our usage of materials and conduct our own recycling program to ensure our waste and our impact on the environment is kept to a minimum. Much of our steel is sourced from suppliers who provide high quality new steel manufactured from reprocessed steel products.
Back to news