Last week the Council of Tall Buildings and Urban Habitats (CTBUH), launched the Façade Access and Maintenance Industry Technical Guide at the 2018 CTBUH Conference held in Dubai.
Members from the CoxGomyl team provided technical input into the long awaited CTBUH Façade Access and Maintenance Industry technical guide. CoxGoyml have been noted as a significant contributor to the industry guide further cementing the company's leadership position in providing facade access solutions. Mark Casey, Executive Vice President for CoxGomyl was at the book launch to recognise the brand's contribution to the industry guide.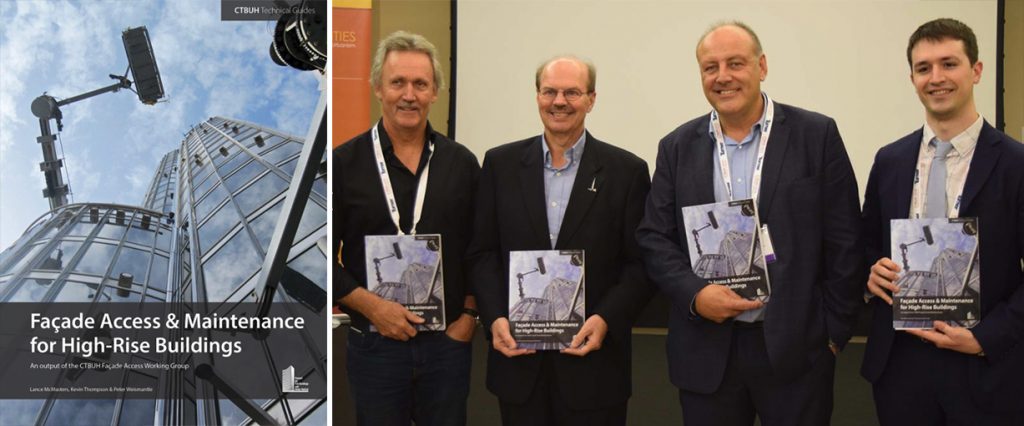 Through a series of detailed case studies – contextualized with supporting material on equipment types, spatial considerations, special façade typologies, the CTBUH technical Guide attempts to illustrate the systems and components that are available to provide access solutions for the many and varied challenges inherent in the tall building typology. Key design considerations and best practices, distilled from the case studies and research within, aim to provide guidance for choosing the most appropriate solutions.
This desktop reference for designers, builders, developers and owners is intended to promote a better overall understanding of the needs, requirements and options for façade access – conveying innovation solutions and in-depth analyses for this crucial element of skyscraper design.
The guide can be purchased online on the CTBUH website
Back to News