Railway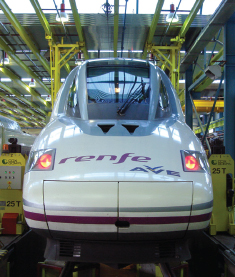 From lifting jacks to train traversers, CoxGomyl Railway maintenance capabilities include a full range of engine and carriage lifting equipment, all built to European manufacturing standards.
Like all of the company's renowned building maintenance units (BMUs), CoxGomyl Railway products are accredited to the international quality management system EN-ISO 9001: 2000, ensuring customers enjoy the peace of mind that all products are designed to the most stringent quality standards.
Through the application of technical knowledge gained through over 50 years of designing and manufacturing heavily engineered lifting equipment, CoxGomyl has developed a wide range of innovative railway maintenance equipment that has been proven in the workshops of leading railway companies around the world.
Download Railway Brochure (PDF, 2 MB)
Send an Enquiry