Monorail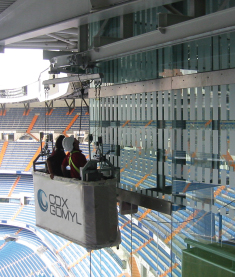 The Flexible Choice Using a Self-powered Cradle
The monorail system consists of an aluminum track, fixed with steel brackets on the side of the building or underhung in a recess. The system is ideal for buildings that do not allow enough space on the roof slab for a roof-based machine, and also ideal where large recesses in building elevations cannot be reached with an approaching system within the 5000 Series.
Machine features:
Horizontal, inclined or vertical track layout.
Manual or motorised trolleys for horizontal layout,and climbing trolleys for inclined and vertical
layouts.
Track can be bent around corners and in light curves to follow the shape of the building.
A wide choice of track profiles and bracket shapes are available to cover the building design requirements.
Used in conjunction with a self-powered cradle.
Selected if:
There is not enough space on the roof for a roof-based machine
Looking for the most economical and flexible solution
There are no projections in the elevation bigger than 0.5m
Cradle can be used for other systems installed on the building
Building heights up to 100m (depending onlocal regulations)
Send an enquiry