CoxGomyl trusted to preserve London landmarks
July 27, 2017
The London skyline is a breathtaking sight. It is a vibrant city where old meets new and home to some of the world's most famous historic buildings and some of the world's most iconic and ground-breaking new architecture.
Time and again CoxGomyl have been entrusted with the responsibility of delivering facade access solutions, working with the architects who are shaping the London cityscape. CoxGomyl have met the high demands for functionality, technical innovation and maintaining the aesthetic vision.
20 Fenchurch Street
One of London's iconic buildings, also known as the 'Walkie Talkie', boasts a three storey sky-garden, open air terrace, restaurants and function spaces, as well as uninterrupted views in every direction from every floor, with each floor being a different size. To preserve all the stunning vistas of London the facade needs to be maintained to a high level. CoxGomyl developed a unique selective pivoting variable levelling BMU platform to travel along the curved roofs and minimise visual impact from the outside of the building. Three of these machines run on tracks fitted to the roof fins and park concealed between the fins, blending seamlessly with the building and the stunning views around it. You can see the impressive system for yourself in this video.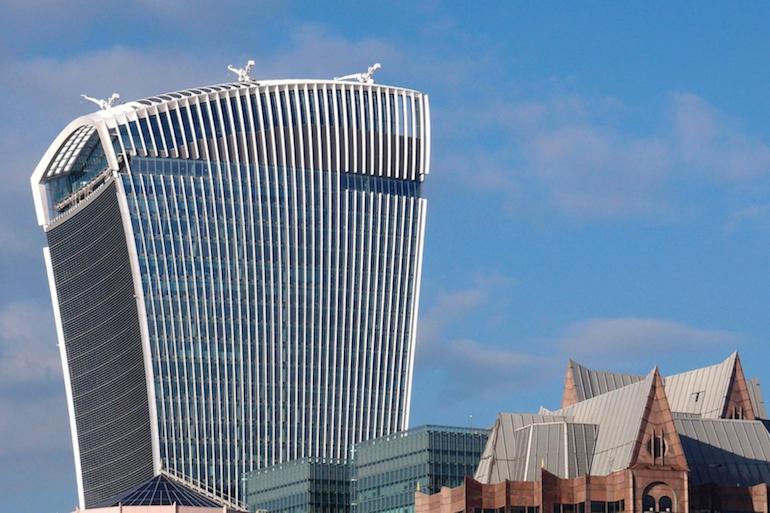 20 Fenchurch Street. http://aasarchitecture.com/2015/01/open-sky-garden-20-fenchurch-street-rafael-vinoly.html/open-sky-garden-in-20-fenchurch-street-by-rafael-vinoly-15
Park House
This mixed-use complex is the largest development on London's bustling Oxford Street in over 40 years. Reflecting the city as a whole, the building takes inspiration from classic principles of design combined with modern, eye-catching forms and materials. The curvilinear shape, bright, light-filled spaces and glass structure offer multiple spectacular views of Mayfair.
CoxGomyl installed one of the largest BMUs in the UK to ensure the facade remains in the pristine condition befitting such a high profile development. The BMU, which has a 35m jib, is stored out of sight below the building's roofline when not in use by means of a substantial, screw jack operated lift table. We pride ourselves on being an end-to-end provider and all equipment was manufactured in our Madrid factory. Click here to see the BMU in action.
The Shard
The tallest skyscraper in Western Europe is an instantly recognisable London landmark. With an irregular pyramidal shape and four glass shards rising 20m from the roof at various angles, this unique building presented CoxGomyl with a challenge that demanded all of our experience, innovative thinking and global resources.
The bespoke solution includes eight multiple knuckle machines housed in garages at level 29 concealed by mechanically retracting panels. Machines with reaches of up to 15m are automatically extended and parked. A similar system is used at level 75 where another four multiple knuckle machines are parked.
The main system is completed by the level 87 BMU, which sits among the cantilevered shard tips. Complex sequences of movements were required to move the BMU into working position without coming into contact with the building. The solution was a specially tailored design with three sections of the jib which luff independently to give a full range of motion. This allows the jib to reach up almost vertically to access the top panels while also enabling it to fold down out of sight for parking.
There is also a smaller BMU at level 19 as well as a unique rope diverter system at level 20, which was developed especially for The Shard to overcome planning restrictions. Recessed monorails with power winch cradles inside the station concourse soffit complete the comprehensive access solution. Click here for a video of this amazing project.
CoxGomyl are passionate about providing building access solutions that ensure the London cityscape remains pristine. As end to end developers, CoxGomyl work to overcome the challenges that architectural innovation entails to achieve the best façade access solutions.
Back to news